To The People's Movement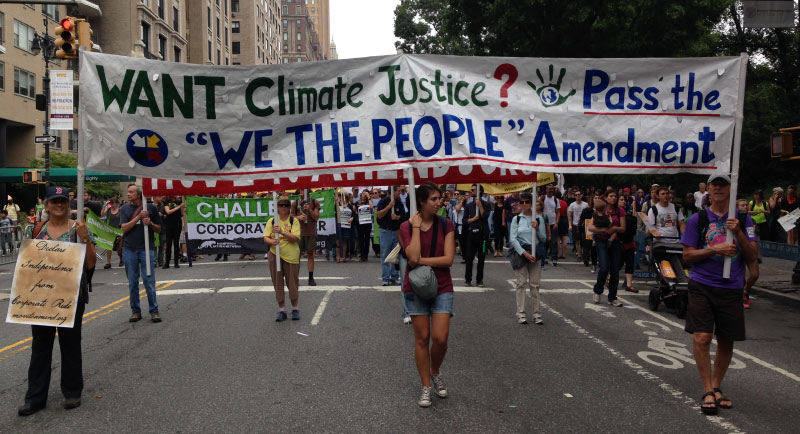 To the People's Movement:
Come Together. Spread the Word. Raise Your Voice. The Time is Now. We are All a Part of This.
In solidarity, WE THE PEOPLE DEMAND AN END TO CORPORATE PERSONS. We call for the passage of the "We the People" Amendment to the United States Constitution. This is Move to Amend's Proposed 28th Amendment which is the first critical step toward the greater social transformation.
There are many people actively engaged in grass roots movements that support many important causes, though the people-force is divided. These people are making important gains in very specific areas while the legal institutional structure aided by corporate constitutional rights continues to exist and perpetuate more problems. The legal perversion that a corporation is a "person" with protected constitutional rights dates back to the 1886 case Santa Clara County vs Southern Pacific Railroad. We all have to converge together, joining our collective energies around eliminating the legal constructs that corporations are persons & that money is speech which itself came about in the 1976 Buckley vs Valeo case. These two concepts were brought together in 2010 in the now infamous Citizens United vs the Federal Election Commission ruling which allowed corporations to give unlimited amounts of money to buy elections using Super PACs. Overturning the Citizens United ruling or securing campaign fiance reform is not enough! Our target must be the passage of the "We the People" Amendment!
The success of all the people coming together & uniting around this issue as a critical first step toward the greater social transformation will help turn the tide from its present course. It will aid grass roots activists and organizers in their specific causes by creating a solid legal footing.
We are on a train run by corporations who are accelerating us toward an ecological cliff. If we do not act to take away these constitutional powers from corporations they will continue to make as much money as possible with no regard for the global ecological collapse which has begun & yet they further accelerate us toward this cliff. Corporations are legally mandated to act this way! (See the 1919 case Dodge vs. Ford Motor Co) They must hold profit above all other competing interests even if human life or the global ecosystem are the "Competing interests." A clear example of this is when a car company has to decide whether or not to recall their vehicles. They will have mathematicians crunch the numbers & see if it will be cheaper to do a recall fixing the vehicles or paying settlements to the families of those who are injured or those who die from these defects. This is business as usual in the Corporacratic State of America with corporations benefiting from these constitutional rights.
If we all come together and rise up against corporations we can slow this train of destruction. We will also have the highest probability of stopping the ecological collapse if we do this. Rising up against corporations means, coming together in solidarity in support of the "We the People" Amendment proposed by Move to Amend. This amendment was already proposed to congress on February 14th 2013 & will be proposed again. Momentum is building, please take the time to look at this outstanding infographic to learn more about this critical issue.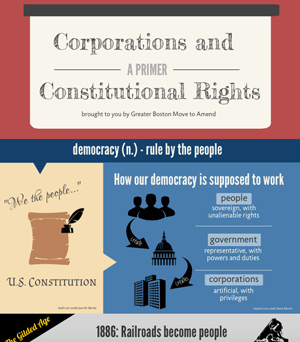 The efforts of people working to help the environment and to bring about social change will continuously be undermined as long as corporations retain constitutional rights with money being legally defined as speech.
When we succeed, We the People will have gained a legal footing that will be critical in taking lasting steps forward to address the climate crisis as well as to build a people centered sustainable society. It is clear, if corporations are allowed to retain their rights they will continue to embrace the environmental destruction as a money making opportunity. With the environment setting the clock, we are well passed being on borrowed time. Our goal must be this specific action & not simply asking for action in general.
Together, we can end this era of corporate rule. Together, we can make history. Passing the "We the People" Amendment will legally change the rules of the game. Once the dark clouds of this long era of corporate tyranny has ended, the shackles on our democratic process will be removed. Actions like the United States of America becoming the world's leading producer of renewable energy and building a network of high speed rail and public transportation across the nation can become a reality. These actions will create tens of millions of jobs. These jobs will be paid with a living wage and more. Now is the time. This is our moment. We must stand together in solidarity. We, the human people, must for once and for all abolish the perverse notions of corporate constitutional rights & money being legally defined as speech. This is the critical step toward liberty & justice for all!
In Solidarity & in Service with Lending my Energy to the Building of a People Centered Sustainable Society,
Michael
Michael@TeamGood.org
238 responses to "To The People's Movement"